About
Discover a refreshing secret about Salford - 60% of it is green space. Amazing isn't it? We have three green flag parks, five local nature reserves, and over 20 public parks there's plenty to keep you occupied. Sometimes the most revitalising activity is simply to let time drift by. Flying a kite, pausing to notice the many aromas of wild flowers or sitting with a picnic in a bluebell wood - stock up with scrumptious bread, cheese, preserves and fruit at the Eccles Farmers' Market.
Parks and Greenspaces
You can explore one of the beautiful country parks such as Clifton Country Park's meadows, play hide and seek in Worsley Woods or turn cartwheels in the fields at Blackleach Country Park. If you prefer a more wild approach, try some real wilderness at Kersal Wetlands.
Blackleach Country Park is a green haven within the city where you can enjoy the countryside on your doorstep. Just half a mile north of Walkden town centre, the 50 hectare site has been reclaimed from its industrial past as a result of a community campaign.
Officially designated as a Local Nature Reserve in 2004, this site also received the prestigious Green Flag award in 2005, 2006 and 2007.
The country park is an ideal place to take a stroll, enjoy a picnic, go cycling or fishing, feed the ducks or watch out for wildlife.
The site and visitor centre are managed by an active group of local people in conjunction with the Salford Ranger Team who together provide an exciting programme of activities. Blackleach has a lot to explore and discover, this includes:
Education programmes for schools
Kids' activities
Volunteer opportunities
Walks and talks
Health walks
Wildlife
Fishing
Orienteering
 Download the Blackleach Country Park Map showing entrance points and facilities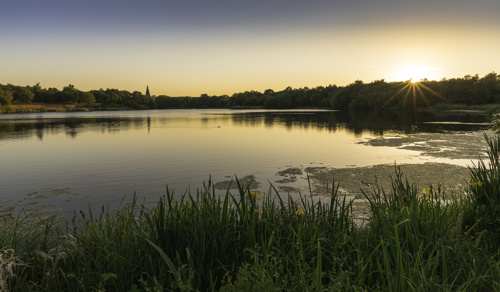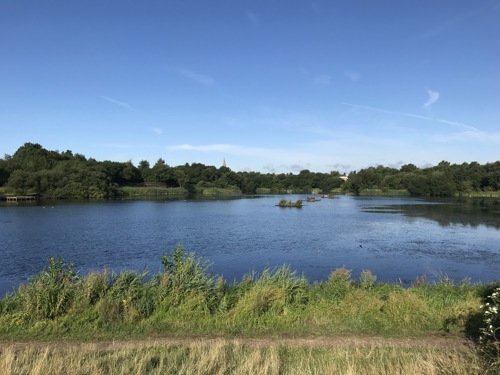 Located within the Claremont and Weaste area of Salford, Buile Hill Park is a Grade II listed Park of National Historic Importance.
It has had a long and varied history with links to many important historical figures. Some of the lesser known facts include links to a certain Mr L.S. Lowry, a one time local rent collector who frequented the park before gaining recognition for his works of art. Emmeline Pankhurst the local girl turned suffragette and Frances Hodgson Burnett author of the classic children's novel The Secret Garden rumoured perhaps romantically to have been written during one of her many visits to Buile Hill Mansion.
Today Buile Hill Park covers an area of approximately 35 hectares. Whilst some of the historic features have been lost over the past century the park itself has survived largely intact. During the past three years a steady series of improvements has begun. New play areas have been built, many of the once grand carriageways re-surfaced and areas of planting renewed. Home to the popular Buile Hill Park Banqueting Suite, the park provides an attractive environment for local people. It features:
tennis courts
tropical plant collections
play areas
picnic areas.
An open air venue for many of the city's events, including the annual Bonfire Night firework displays, it remains Salford's favourite public park.
Buile Hill Park
Eccles Old Road
Salford
M6
Tel: 0161 736 8911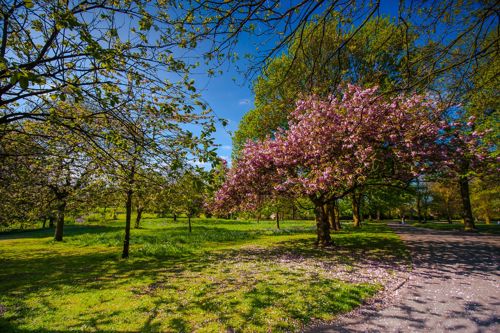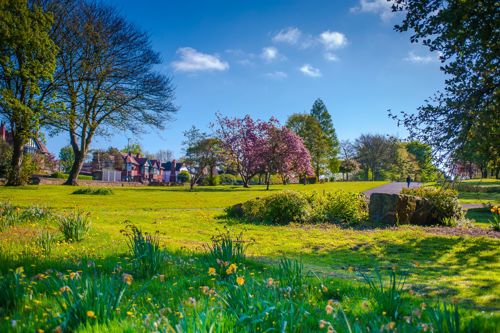 Clifton Country Park Local Nature Reserve is approximately 48 hectares of scenic urban fringe countryside in Salford, with woods, meadows, ponds and a lake to explore and remnants of the city's industrial past to discover.
It is hidden away in the Irwell Valley just a few miles from Salford city centre and easily accessible from the A666. The Country Park was designated a Local Nature Reserve in 2005, and in 2006 and 2007 it was awarded a prestigious Green Flag award
Here you can explore the woodland and lakeside walks, bring a picnic, go fishing or bird watching. The visitor centre holds information about the site and surrounding areas and provides toilet facilities for users.
As well as self-guided trails and activities the ranger team provides a wide range of exciting activities throughout the year for adults and children alike. These include:
kids' activities
walks and talks
discovering wildlife
fishing
orienteering
volunteer opportunities
environmental education programmes for schools and community groups.
At Clifton Country Park are the industrial remains of the Wet Earth Colliery. Established around 1740, the colliery was one of the first deep mines to be sunk in the Irwell Valley.
Access for disabled users
There is a hard surfaced path around the lake providing a circular walk which is fully accessible for disabled users including those in motorised wheel chairs. Three designated parking bays are available for disabled users in the main car park. The visitor centre is fully accessible with male and female toilet facilities.
Car parking
The Clifton Country Park car parks are accessed via Clifton House Road. The main car park is opened at 9:30am and closed at 9:30pm during the summer and opened at 9:30am and closed at 5pm during the winter. The country park has 24 hour pedestrian access with 24 hour parking available in the smaller over flow car park.
Download a map of Clifton Country Park showing the trails, paths and facilities
Clifton Country Park
Clifton House Road
Clifton
Salford
M27 6NG
Tel: 0161 793 4219
Email:clifton.countrypark@salford.gov.uk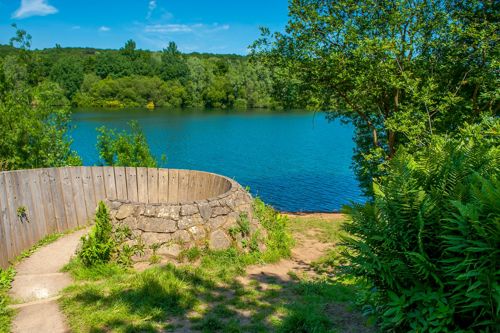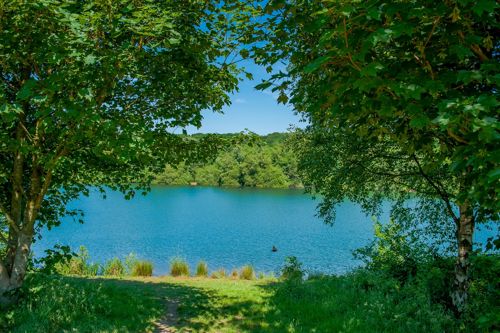 Peel Park was created on the slopes leading down to the River Irwell.  Over the years the land was terraced so that the park is now a fairly flat riverside area flanked by steep banks. At the top of the slope are the buildings of Salford University and Salford Museum and Art Gallery.
Interpretation panels in the park give more information about key features.
A flight of stone steps from the back of the museum sweeps down to the iconic circular flower beds.  Beyond are large areas of grass lawn and wildflower meadow, interspersed with avenues and small groups of trees.  In spring the northern part of the park is swathed in daffodils, planted as a Marie Curie 'Field of Hope' some years ago.
A monument in the park demonstrates the significance of the nearby river.  The Irwell carries water from a huge area and has flooded the park and other areas of Salford many times.  The flood marker shows the height reached by the flood of 1866.
A footbridge crosses over the River Irwell and will lead you out of the park to the Meadows where nature has been allowed to take over a former industrial area within a broad curve of the river.
Steps to the west side of the park lead up to the University campus where you may see a curious statue of Engels Beard which commemorates Friedrich Engels and also serves as a climbing wall.  Walking through the campus will bring you back to the Museum or to public transport links.
Worsley Woods occupies around 30 hectares of countryside. The site can be reached from Salford's network of looplines or the historical Bridgewater Canal. With beautiful woodland to amble around and the Kempnough Brook flowing through, Worsley Woods offer a welcome break from city life.
As well as self-guided trails and activities the Salford Ranger team provide a wide range of exciting activities throughout the year for adults and children alike. These include:
kids' activities
walks and talks
discovering wildlife
orienteering
volunteer opportunities
environmental education programmes for schools and community groups.
For more information call Jo Regan 0161 607 1759
Get involved: Worsley Woodlands Action Group
The Worsley Woodlands Action Group was set up in 2005 with the support of the Ranger Team. This was to give the users of Worsley Woods the opportunity to be involved in and consulted about the management of the site.
The group aims to conserve and develop the plants and creatures of Worsley Woods and to enhance its value for all the people of Salford. The group meet regularly to discuss new plans and projects.
If you would like to get involved in practical conservation activities such as tree and wildflower planting or fence and step construction, conservation mornings are held once a month. No experience is needed and refreshments are provided!
To join the group or simply find out more please contact Jo Regan on 0161 607 1759.
Download the Worsley woods map and wildflower trail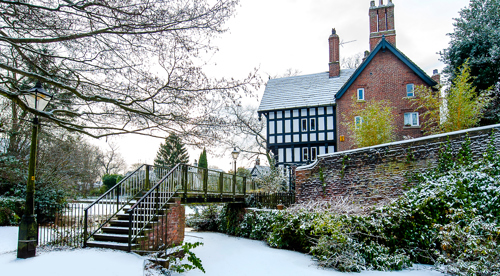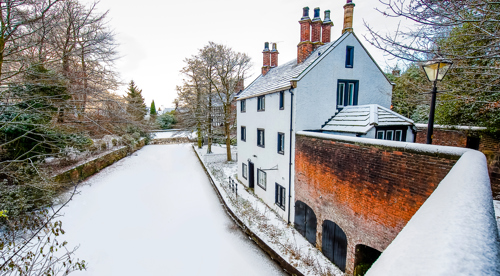 Waterways
Water, water everywhere. With six waterways, 30 miles of river and canals, and 112 ponds, Salford is literally swimming in the stuff.